Professional Football Fans Scarf Manufacturer in China
Guangzhou Bangze Textile Co., Ltd. is one of the domestic manufacturers specializing in the production of football fan scarf and Towel. Our factory has 20 years of experience in the production of sport towel and fans scarf. We provide a variety of flag printing methods, such as batch flat screen machine printing, small number of platen printing, color separation digital printing, and paper thermal transfer.
At the same time, there are a variety of fabrics to choose from, such as pongee, warp knitting, and flag yarn , Flag-like yarn, Oxford spinning, nylon fabrics, satin and more than 20 kinds of football fans scarf fabrics. In our 11,000-square-meter production workshop, we have a 45-meter 7-color full-automatic wide-format flat-screen printing machine, a long loop steaming machine, a rope washing machine and a setting machine, and three 60-meter screen printing production lines. There are 8 automatic digital printing machines and more than 120 skilled workers.
Our product quality and delivery time have been recognized by our customers, and we have become a supplier of many well-known companies and brands. If you are interested in our products, please feel free to contact us. The fan scarf is a symbol of a team. It can be used both in daily life and when watching football on the spot. It is just like ordinary scarves in the life. It can keep warm in cold weather and can be decorated. It is best to wear it with a sports jacket.
When watching the ball on the spot, you can cheer for the team with waving in your hands, or you can spread your hands over your head and shout slogans to cheer for the team. More people do it together to gain momentum! Fans' scarves are printed with the team's name, team logo and Slogan. This kind of support can wipe sweat in summer and keep warm in winter. It is more convenient for fans to wave when watching a game than to wave a big flag.
What is the history of Football Fans Scarf?
Its history can be traced back to the United Kingdom in the 1930s. At that time, it was mostly woven for them by women in the fans' homes. Since then, fan scarves have become an object for fans to show their loyalty and have the effect of silent declaration.
It is said that if a fan wears a scarf around his waist or tied it on his hands, it means that he is a "super loyalty" for his super football star.
Of course, in addition to the two more radical wearing methods mentioned above, there are many ways to tie fan scarves, which are also applicable to ordinary scarves. In recent years, many mainstream designers have gradually street-styled fan scarves, or fan scarves have gradually become a trend item, and more and more brands have included it in their single products. In recent years, FILA, which has been popular in retro sports style, is also very good on fan scarves. When matched with FILA sweater, the retro feel is bursting. Our company newly researches and develops 50 new models of scarf fan scarves every year, keeping up with fashion and practicality. Welcome to contact our company for more information about fan scarves!
Do you accept custom logo small quantity order of  scarves?
Yes, our accept it! We have satin fabric fans scarf which MOQ is 100pcs per design, and produce time is 7-10 days. We can do a pre produce sample to you check before mass production, it is very easy and efficient to work with us. Please contact us for more details. See more here.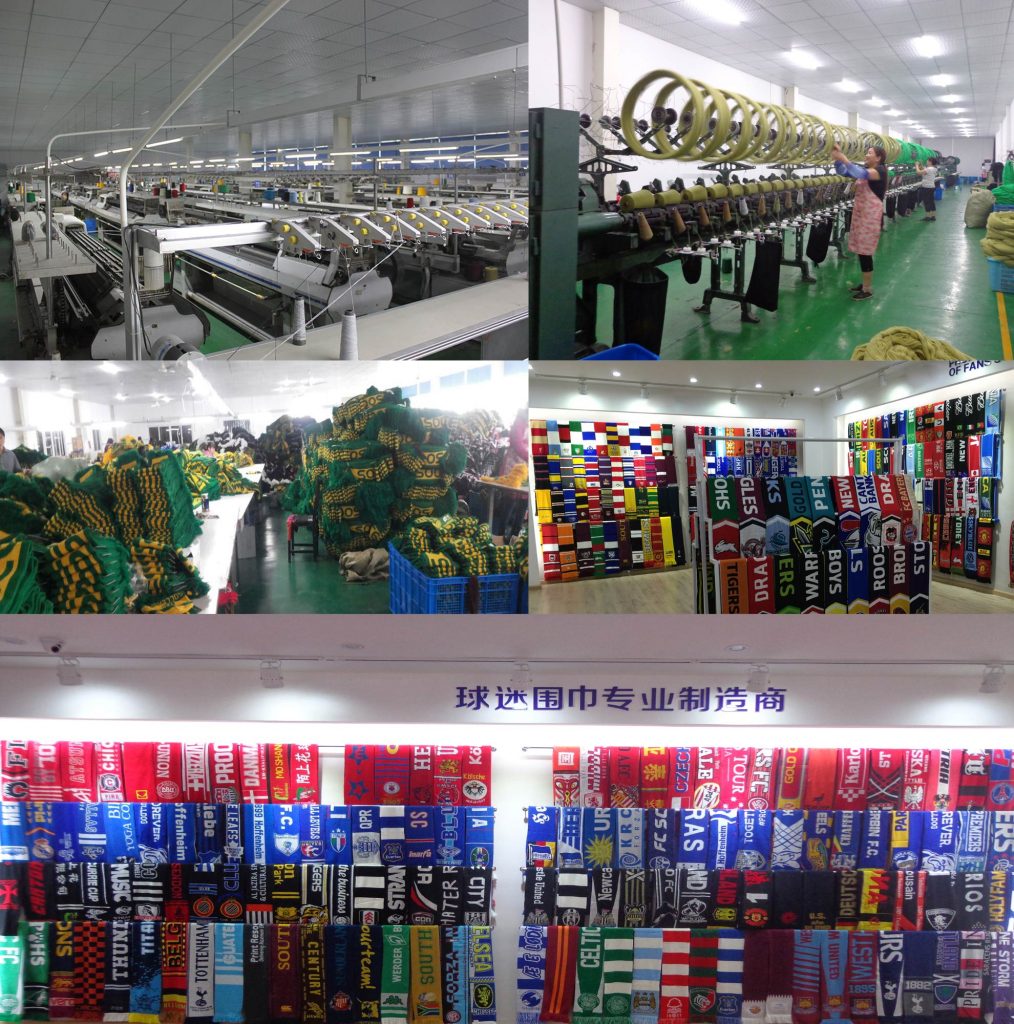 Bangze
2022-06-05T21:59:40+08:00
Bangze Textile is good at produce 100% Acrylic Knitted [...]
Bangze
2022-06-05T22:01:19+08:00
We are professional soccer fans scarf manufacturing in China, [...]
Bangze
2022-06-05T22:02:43+08:00
Wholesale Cheap Promotional Winter Jacquard Sport Custom Football Team [...]
Bangze
2022-06-05T22:03:39+08:00
Guangzhou Bangze Textile can produce 100% Acrylic Knitted Quality [...]